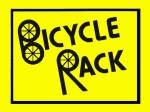 13 N. Front Street
New Paltz, NY 12561
845-255-1770
















You have found and entered our old site.
You can continue to browse our old site and see some old information
OR
You can click on the link to be transported to our new website.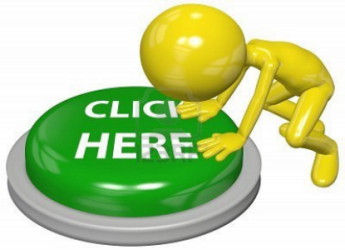 The Bicycle Rack - Repair Services
---
Our reputation rests on the foundation of our Expert Repair Service.





From Flat Tires to complete Performance Overhauls.
We work on any make, any model.
---
Quick and Efficient Service
Same-day service for flat tires and other small jobs.


There is a two-day turn-around for most other work.



Our Repair Schedule
| Day In | Day Ready |
| --- | --- |
| Sunday | closed |
| Monday | closed |
| Tuesday | Thursday |
| Wednesday | Friday |
| Thursday | Saturday |
| Friday | Wednesday |
| Saturday | Wednesday |
Note: Bicycles purchased from our store will receive the highest priority.
---
Our Tune-up Service
CLEAN - This is the first step and the most important.
We clean every visible surface and component!
This is why our Tune-ups are better and last longer.


LUBRICATE - All components and cable lines are lubricated
with high quality Finish Line products.


ADJUST - All components are adjusted. Fittings are tightened. Wheels are trued.
(Note: extra charge for spoke replacement / major wheel truing.)


TEST RIDE - The last step in our complete tune-up procedure.


All Tune-ups include a 60 day satisfaction guarantee.


---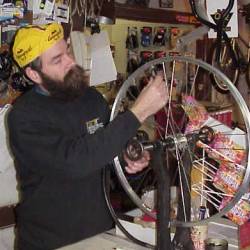 Wheel Building Service
Hand built STOUT Wheels are the best money can buy. Our expert wheel man, Alan Stout, has more than 30 years of wheel building experience. He logs each wheel with date built and spoke lengths for future reference / tracking.
---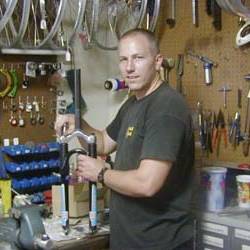 Shock Fork Overhaul Service
Don't take your fork for granted. Regular maintenance is required. Let Mike bring it back to its original condition. Tune-up and complete overhaul service available.
---

Bicycle Repair Course