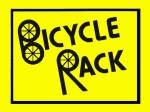 13 N. Front Street
New Paltz, NY 12561
845-255-1770















Friday Night Rides
The Bicycle Rack has recently started a series of Friday Night Rides.
(actually Friday Evening).
Rides will leave from The Bicycle Rack at 5:30 PM.
The rides will be different each week and we will try to accomodate different levels of riders.
If you are interested in riding with others stop by on Fridays at 5:30 and take a ride with us.


We have ended our rides for the 2007 season. Please check back in the Spring.